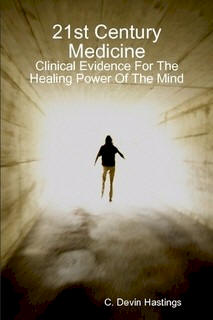 This is my latest book and the information in it is nothing short of mind-blowing in terms of what we are capable of creating in our lives. 50 different medical conditions are discussed and evidence is presented by doctors on what a person's mind has created.
I wrote this book in a very easy to read format so that you could literally read for 30 seconds and get something interesting and useful from it.
Below is what is on the back cover:
A huge and growing number of medical studies are emerging telling a fascinating tale of healing.
Using methods that are beyond medicine and pharmaceuticals, medical practitioners and their patients are experiencing success where traditional methods have failed.
And the key to their success? The powerful Mind-Body connection.
This book documents the medical evidence through clinical studies and articles published in peer-reviewed journals. The stories are astonishing, and show how you, too, can expect the same miraculous results.
You'll learn how hypnosis and other mindbody techniques were used in the following cases and more!
-A horrifying, congenital skin disease virtually cured
-Allergies that simply disappeared
-Reversal of crippling anxiety and phobias
-Incredible pain relief and accelerated healing from severe burns
-Comfortable childbirth, dental surgery and bone marrow aspirations
-Recovery of sight after documented blindness.
*Discover the power of your mind now!*
If you decide that you would like a copy, you can own this one-of-a-kind book for $25.00 plus $5.00 for Priority Shipping and Handling. You are saving over $5.00 off the regular retail price of $30.00.
Ordering information is just below.
And, should you choose to do so, I thank you in advance for telling your friends and family about my book.
Warm Regards,
Devin Hastings
President, MN Institute of Advanced Communication Skills
"Speak well to yourself because your deep mind is always listening."
Direct # 612-730-2789
"Crying is a watershed event."
- Mike H.
Ordering Information
To order one or more copies of 21st Century Medicine: Clinical Evidence For The Healing Power of The Mind, please click on the "Add To Cart" button below. Thank you!